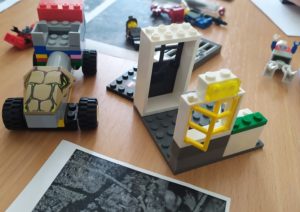 What adjectives best describe summer holidays?  For sure it's a period of warm sunshine, sandy beaches, steep mountains and fun with friends. It's the time for exploring, experimenting and experiencing adventures, don't you agree? Yet, the playful atmosphere of holidays can quickly be forgotten as soon as you go to school and start doing the boring exercises in books.  However, students of our school had a chance to reminisce that happy period  in their English lessons in a more frolicsome way – with no books but playing Lego blocks.
The students were to create holiday adventure stories. They were given a sizeable set of Lego blocks ( which the teacher literally "stole" from her children:-) ) and a set of pictures depicting Lego characters in various summer activities, ranging from roasting marshmallows, making campfires on the beach to looking through binoculars to admire picturesque views.
 The task made students use their imagination to create an involving story line combining the pictures in a logical way together with their own "Lego installations" that completed the narrative. Apart from that, it was an opportunity to practice speaking in English, working in groups, learning new vocabulary and needles to say – play Lego during the lesson!
 The result of the activity really surprised me as a teacher. I found my students involved, constantly talking to each other, anxious to find proper new characters, blocks or Lego accessories to insert in their stories. I discovered how big imagination they have and how creative they are. We ended up with stories of tourists trapped in the forest and being chased by serial killer, or Minecraft zombies attacking them on the beach, alien encounters, detective stories and love stories of all kinds.
 I hope we all had good fun listening to our friends giving presentations- sometimes accompanied by acting and slow motion animation. Art school students have really proven they are imaginative, prolific and inventive not only in artistic subjects!
Thank you for amusing lessons.
Your teacher,
Joanna Jastrzębska